No Fuss Funerals to Ceremonial Funerals
Local Family Funeral Director in Teddington
Hello, we are Nick and Jacqui, independent family funeral directors in Teddington. We are also long term Teddington residents.
When you are faced with planning a funeral, we can fully understand how you may be feeling. It was through our own experience after a family death that led to us starting White Rose Modern Funerals.
Whether you have ideas you'd like to talk through, or don't know where to start, we are here to help you. A funeral can be ceremonial, low key, or unattended (also known as direct cremation).
Our office and relaxed meeting room is on The Causeway, meetings by appointment. Our team includes Ann and Holly (also Teddington locals).
The first step is to call us – we are available 24/7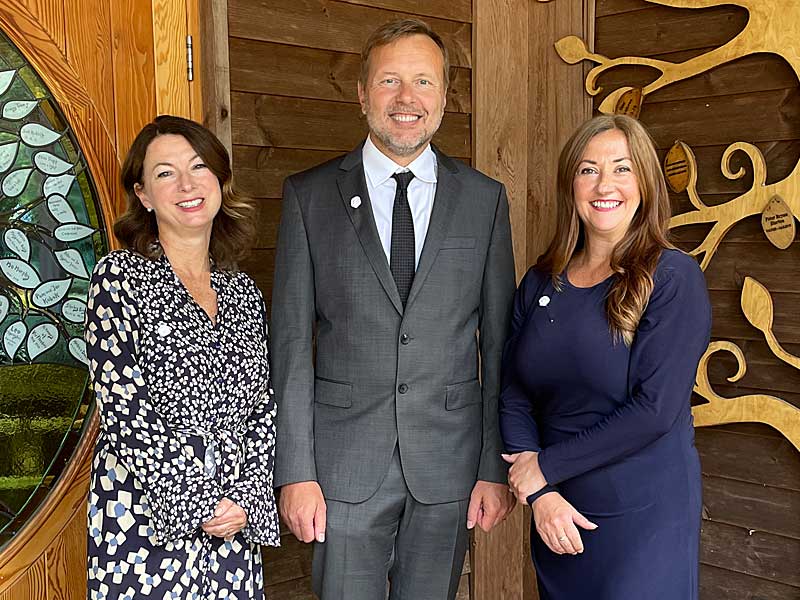 Planning a funeral in Teddington
When planning a funeral, the first thing to consider is whether the funeral will be faith-led, non-religious, or a funeral without a service (also known as direct cremation).
We then suggest to think about whether you would prefer a ceremonial funeral, a sense of tradition, or a simple funeral that is more low key. We can advise:
What you may not know:
A hearse does not have to be used for transport
A cremation service does not have to be held at a crematorium – there are Alternative venues for a funeral service for when you wish for something different and less funereal
We work with all the local Teddington churches including: St Mary with St Alban, St Mark's Church, Teddington Methodist Church and St Francis de Sales. We work far wider afield too.
Recommended Funeral Director in Teddington
As modern funeral directors, our ethos is to help families by providing choice and flexibility and advise on how to manage costs.
Our fees start from £1,950 (+ 3rd party fees and options) for a personalised cremation or burial funeral.
Low cost simple funeral options are direct cremation £1,295* or Attended Pre 10am service at Mortlake Crematorium £2,017 * (*inclusive of all fees, basic coffin and transport).
Our main office is in Teddington, from where we cover SW London & Surrey.
We are contactable 24/7
Are you looking for…
If you are unsure, continue scrolling to see all of the options.
Cremation funerals in Teddington
What you may not know about a cremation funeral
A cremation service does not have to be held at a crematorium
A hearse does not have to be used for transport
Family can lead the service themselves if they wish to do so
Our low cost no-fuss cremation service funerals range from £1,295 and £2,177 inclusive
Creating a personal ceremony, fees start from £1,950 plus 3rd party fees and options
Personalised Cremation Funerals
Personalised Cremation Funeral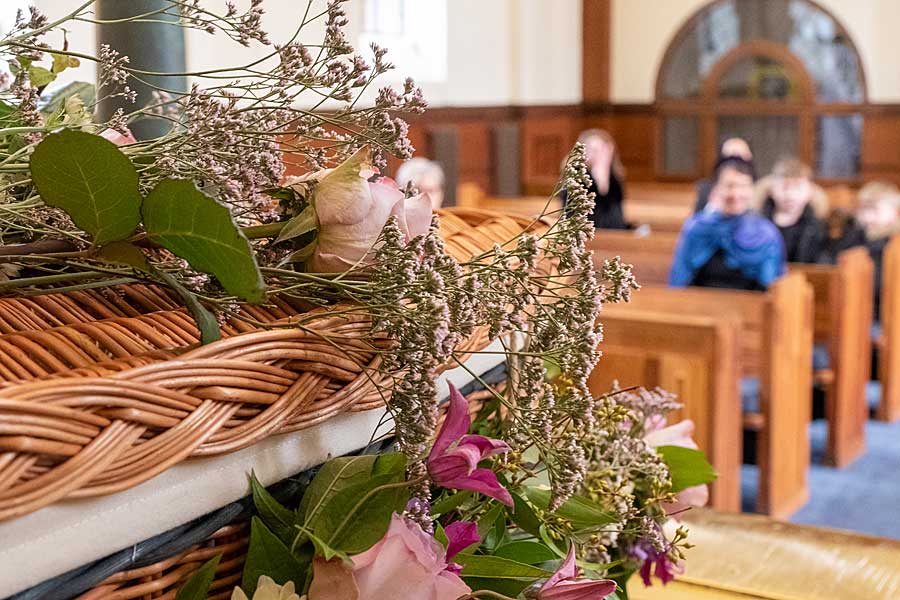 From a low key and informal approach, or a sense of ceremony, tradition and personal style. We help you to make informed choices when planning a funeral, advising on how to manage costs and create a meaningful farewell.
Price: from £1,950
Alternative Venue Funeral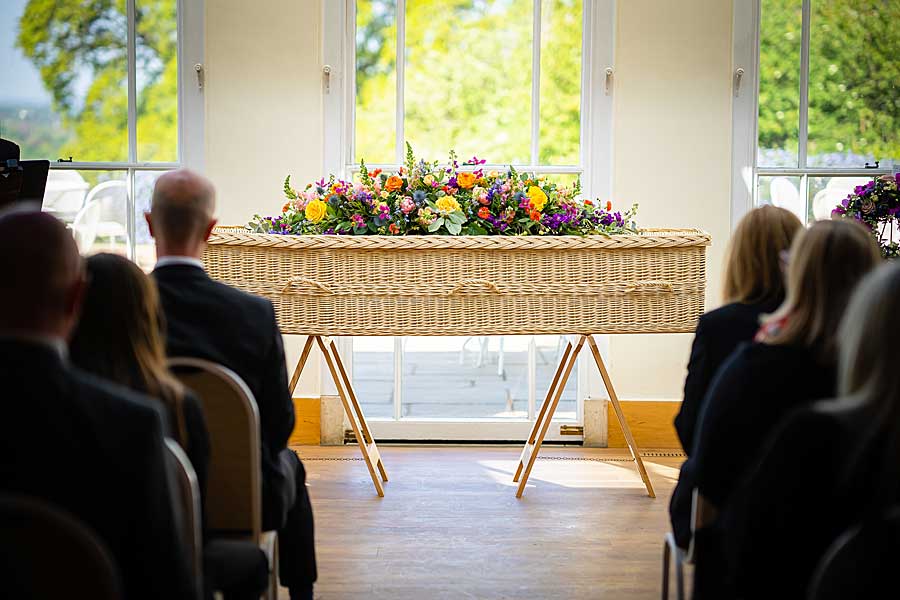 A cremation service does not have to held at a crematorium. There are peaceful, beautiful venues surrounded by nature where a service can be held with the coffin present. The unhurried time and sense of privacy helps families to create a personal farewell. It is also possible to hold the Wake at these venues.
Price: from £2,250
Low Cost, No Fuss Cremations
Attended pre-10am Funeral
A no-fuss, low cost funeral for when you wish to be at the chapel to say farewell in your own private way. We take advantage of the discounted crematorium rates for a pre 10am service. Typically attended by 1 – 15 people, this simple cremation funeral is ideal for families where Direct Cremation feels too remote.
Price: £2,097 inclusive
Direct Cremation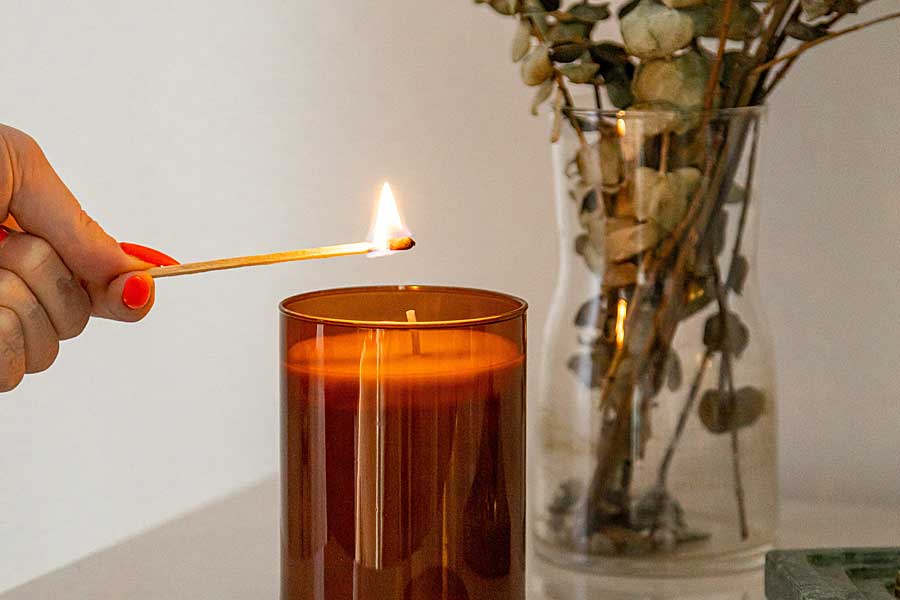 Direct cremation – also advertised as pure cremation – is an unattended funeral. As a local, independent funeral director you can take comfort in knowing who we are, where your relative will be cared for and the local crematorium we use. You will know the date and time of the cremation (not all direct cremation providers offer this).
Price: £1,295 inclusive
White Rose consistently exceeded my expectations. They took the time to really get to know me and, more importantly, Christine. This enabled them to give me advice that really helped to make the funeral as perfect as I could have hoped.
– Mark
BURIAL FUNERALS in Teddington
What you may not know about a burial funeral
A no-fuss burial can be a gathering just at the graveside
Natural burial grounds are an eco conscious and cost conscious alternative to a traditional cemetery
Traditional cemetery fees are determined by the local residency of the person who has died
Traditional Burial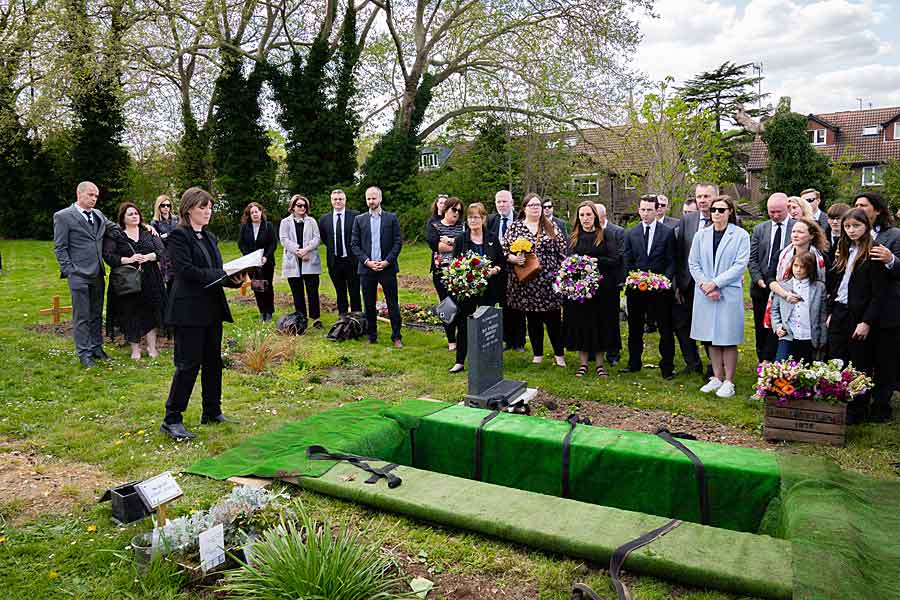 A burial funeral at a local cemetery. Whether you wish for a quiet farewell at the graveside only, or for a service at a cemetery chapel, church or alternative venue first.
Simple graveside service only: from £1,950
Ceremony plus graveside burial: from £2,250
Natural Burial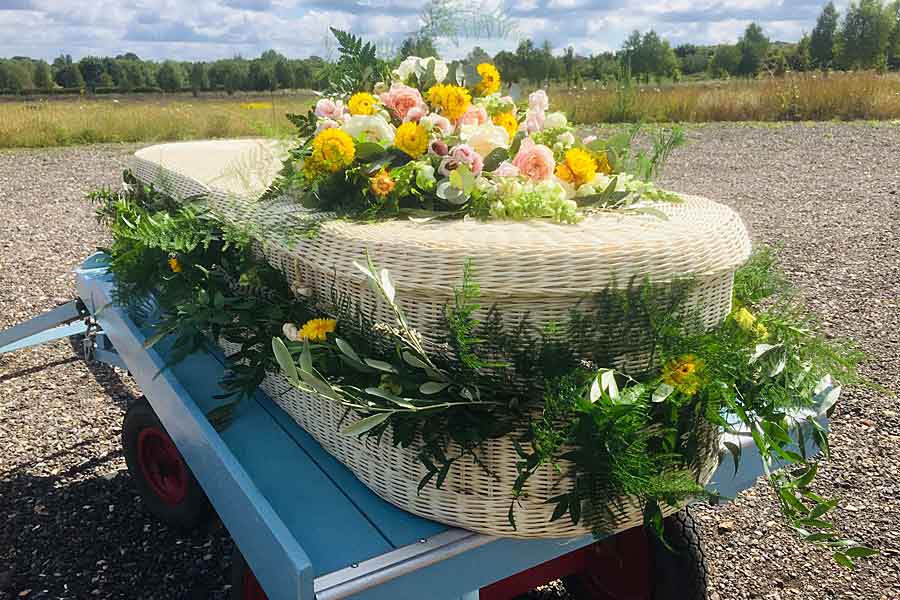 Surrounded by nature in a woodland, meadow, nature reserve or field, a natural burial funeral is a gentle and environmentally friendly alternative to a traditional cemetery.
Simple graveside service only: from £1,950
Ceremony plus graveside burial: from £2,250
When you need a funeral director in Teddington
White Rose Modern Funerals is an independent funeral director based near Teddington. We have a private meeting room in Teddington if you prefer to meet in person. We can also visit you at home if you are less able to come to us.
Alternatively, we can meet with you via a Zoom video call – or simply by telephone, whichever you prefer.
Our flexibility and how we communicate with you throughout means you are always fully informed throughout each step.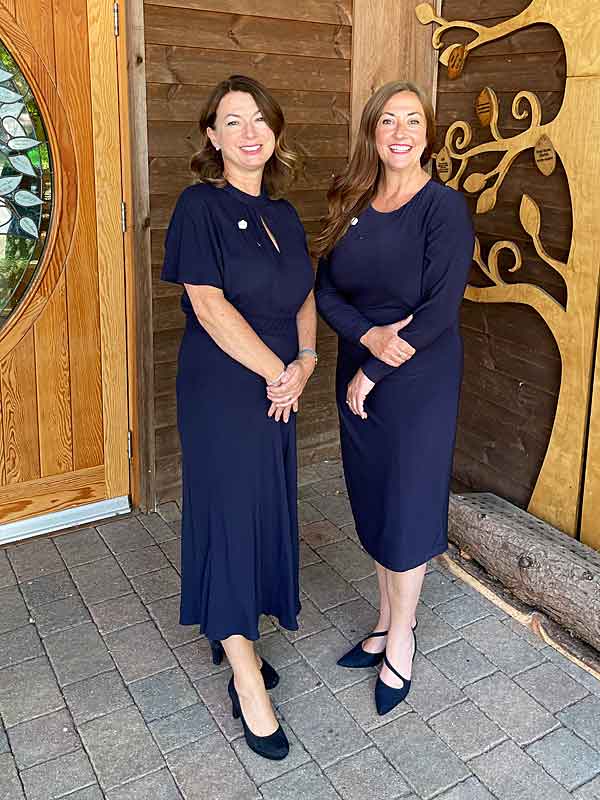 Find a funeral director in Teddington
When you are looking for a funeral director in Teddington, it is worth considering your choices. You do not have to use your most local high street firm, the important thing is to find someone that you feel comfortable dealing with.
Some funeral directors (even if the name above the door still retains the name of the original founder) will be part of a large national network such as Dignity or Co-op. Others, like ourselves, are small independent family-run firms. So always check carefully to make sure you know if you are dealing with a national business or a local independent when making your decision of who to appoint.
At White Rose Modern Funerals we are a small team and will personally help and guide you through the process – you will always know exactly who you are speaking with.
We have helped dozens of Teddington families arrange a funeral for their family member.
Cremation funerals are most often held a local crematorium such as Mortlake or Kingston Crematorium and we work with local cemeteries for burials. We also recommend alternative venues for funerals and welcome natural burials, especially where environmental impact is a consideration.
Call us on 020 3281 1045 and we can answer any questions you may have – or arrange an initial meeting.
Feedback from families we have helped
I am so pleased that I asked WHITE ROSE MODERN FUNERALS to look after my sister's Funeral. From my first 'phone call with Jacqui - to all my subsequent messages with Jacqui, Holly and Nick who all helped me with such kindness, professionalism and pleasantness - I am most grateful. As I am not resident in the UK - WHITE ROSE MODERN FUNERALS went far beyond my expectations to ensure that all vital documentations were obtained and that they were all in order. WHITE ROSE MODERN FUNERALS enable me to give my sister the Funeral she would have appreciated; regarding all aspects of my sister's Funeral WHITE ROSE MODERN FUNERALS - with their wonderful advice - always left the final decision with me. I just want to say thank you to Jacqui, Nick, Holly and the Team at WHITE ROSE MODERN FUNERALS for all their help.
Holly, Jacqui and Nick from White Rose Modern Funerals helped make the most difficult time of my life so much easier. My wife, Christine, died in Belgium and from helping to organise the repatriation of her body to the flawless funeral service itself, they were never anything less than professional, efficient and, above all, kind and caring. White Rose consistently exceeded my expectations. They took the time to really get to know me and, more importantly, Christine. This enabled them to give me advice that really helped to make the funeral as perfect as I could have hoped. Along with the incredible Hannah (HannahTheCelebrant.com), Holly, Jacqui and Nick were the best people I never wanted to meet. I cannot express my thanks and gratitude enough.
Hariclea Darclee
02/05/2022
White Rose have a wonderfully kind and understanding team. They listened to my wishes and organised a warm remembrance for my dad, even though we were a very small group of mourners. Everything was done perfectly and the flower service they also work with is really great. I would warmly recommend them to anyone. Thanks again for taking care of me and my dad. He would have appreciated it.
Karen Steinnes
18/04/2022
I first learned of White Rose from a neighbour who was delighted with the bespoke service provided by Nick for his partner's Society of Friends funeral service. When my husband died unexpected in January this year, I immediately turned to White Rose. I had some initial ideas, and with Jacqui's guidance I was able to craft a very personal funeral service that felt right for the family. My husband's ashes will be buried abroad and White Rose was very knowledgeable about the documentation required and provided helpful practical advice. I have absolutely no hesitation in recommending the team at White Rose.
Excellent company. Very sensitive to our needs without being overly fussy. Nice, friendly people, which made a big difference.They were also not afraid to give us a prod to make decisions when we needed to. Overall, a really positive experience at a difficult time.
A sincere, compassionate and completely professional experience from start to finish. From the first contact less than 24 hours after our loss, until the funeral 8 days later, nothing was too much trouble, and responses to any queries or changes were turned around quickly and flexibly. It was our first time ever arranging a funeral and Jacqui, Nick and Holly made us feel supported all the way. Friends and family who attended all commented on how elegant and dignified everything was, and those who were unable to attend in person were able to view a live webcast and video recordings which were all seamlessly arranged by White Rose. We were even told by one attendee who was so impressed by everything that they had contacted White Rose the next day for guidance with making plans for their own service one day. We could not have asked for a better team to support us through such a difficult time, and with so many decisions and choices to be made, knowing they had everything in hand was a huge help. I could not recommend them more highly. Thank you.
Personal & genuine service. Very knowledgeable about Green Burials, had all the information to hand. Coordination of all the various elements and parties involved were undertaken very professionally. Emails, WhatsApps & phone calls were always on a timely basis.
Graham Macalister
09/02/2022
From my first telephone call with Jacqui I felt reassured that I was dealing with sensitive, caring but thoroughly professional people. As Jacqui and Holly took me through the all the arrangements that needed to be made, it was evident that they were very perceptive in recognising the needs of their client and knew how to help. When I was struggling to choose images for the video montage, Jacqui took the pile of photos and said "leave it to us". The result was amazing, and I still get comfort from watching it. It was easy to keep in touch and no request was too much trouble. Furthermore the response was almost always immediate. At a very sad and upsetting time it was very reassuring to know that everything was in hand and being dealt with in a thoughtful manner. I have no hesitation in recommending White Rose Modern Funerals
Independent funeral director
helping families across London & Surrey
You can speak to us anytime on 020 3281 1045 – we're open 24/7